Kit Granny Flats- Price vs Quality
February 15, 2013
Written by Serge Panayi
860 Views
1 comments


Share:
Kit Granny Flats- Price vs Quality. We explain the difference.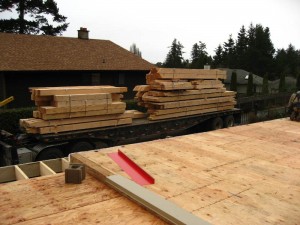 Kit Granny Flats – What Are They?
Kit Granny Flats are sold as prefabricated packs which means you purchase your granny flat in pre-assembled form. They're made in a factory and delivered to you in three stages, primarily:
1. Frame, Roof and Cladding (includes flooring, if building on piers)
2. Internal fit out such as kitchen, laundry and bathroom.
3. Final delivery of fittings, plasterboard and linings.
Kit Granny Flats do NOT include:
1. Labour Costs
2. Concrete Slab OR
3. Footings and Piers
4. Hot Water System
5. Electrical wiring
6. External and Internal Plumbing
7. Paint
Granny Flat Kits – The Choice
Once you factor in labour, site connection costs and the BASIX (Energy-Efficiency) requirements, a kit only covers about 35% of the cost of building. In saying that, the quality of kits can vary from bad to ok to pretty good. Granny flat kits are generally basic in terms of quality and inclusions. This means 70mm radiata pine framing instead of 90mm H2 treated timber framing and thinner cladding and insulation. Internally, a kit's inclusions constitute more basic laminated and particleboard cabinets and cheaper tap/light/power fittings. Kit companies will generally provide materials which meet the minimum Building Code of Australia requirements.
Here's a rundown of the average cost of a granny flat kit build for Sydney:
1. Kit price including delivery- $30,000
2. Labour (including site connection costs)- $45,000
3. Hot Water System (Gas Instantaneous) fitted – $2,000
4. Foundations (concrete or footings/piers)- $7,000
5. Approvals – $6,000
6. Miscellaneous materials like paint, floor coverings and fittings- $5,000
TOTAL: $95,000
Summary
- Granny Flat Kits in Sydney can seem quite cheap because they are relatively inexpensive to buy. When you factor in the real site costs, labour and inclusions, you're going to end up paying close to (if not more than) the price of a quality custom build. A customised build is protected by Builder's 7-Year Home Warranty Insurance and includes all quality inclusions to turn-key completion.
- The quality of kits is often (if not always) substantially inferior to custom builds and they don't usually constitute the end of your materials buying budget.
- The kit company is only responsible for delivery of the kit. They will not be concerned with the job beyond that. Checking for local building codes and compliance is not covered. The other issue is security of the delivered kit.The risk here is that flat-pack building materials can often be stolen from the building site whilst unattended.
- Granny Flat Kits are a good choice for experienced Owner-Builders looking for a cheaper and more convenient option for the majority of the building materials. There is an element of convenience in some cases.
At Granny Flats Sydney, we customise your backyard cabin so that it suits your specific property. It's almost impossible to have a one size fits all policy on granny flats. Again, this is because every site is unique.
We hope this guide helps you when making a decision between a granny flat kit or a custom build in Sydney NSW.
Granny Flats Sydney NSW Australia
scrolling="no" frameborder="0" style="border:none; overflow:hidden; width:75px; height:62px;" allowTransparency="true">
---
---
Comments