Kit Granny Flats- Price vs Quality
February 15, 2013
Written by Serge Panayi
6321 Views
1 comments


Share:
Kit Granny Flats versus Building Project. We explain the difference.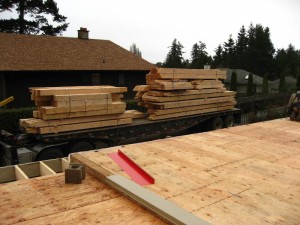 Kit Granny Flats – What Are They?
Kit Granny Flats are sold as prefabricated packs which means you purchase your granny flat in pre-assembled form. They're made in a factory and delivered to you in three or four stages, primarily:
1. Frame, Roof and Cladding (includes flooring, if building on piers)
2. Internal fit out such as kitchen, laundry and bathroom.
3. Final delivery of fittings, plasterboard and linings.
Kit Granny Flats usually do NOT include:
1. Granny Flat Approval
2. Labour Costs
3. Concrete Slab (or Footings)
4. The Hot Water System
5. Electrical wiring  and connection to services
6. External Plumbing
7. Paint
Granny Flat Kits – The Choice
Once you factor in labour, site connection costs and the BASIX (Energy-Efficiency) requirements, a granny flat kit covers around 25 to 35% of the overall cost of the granny flat project. This can be a good option for those with a tight timeline, for people who have a builder willing to build for them or they are themselves and Owner Builder.
Below is a rundown of the average cost of a granny flat kit build in Sydney. This is if you're using a qualified builder. Going Owner-Builder should save you another 20% on labour:
1. Kit price including delivery- From $25,000
2. Labour (including site connection costs)- $50,000
3. Hot Water System (Gas Instantaneous) fitted – $2,000
4. Foundations (concrete or footings/piers)- $7,000
5. Approvals – $6,000
TOTAL: Around $90,000
Summary
– Granny Flat Kits in Sydney can be a good way to save money if done correctly and if you buy from a reputable supplier.
– The kit company is only responsible for delivery of the kit. Checking for local building codes and compliances is a must.
– Granny Flat Kits are certainly a good choice for Owner-Builders looking for a cheaper and more convenient option for the majority of the building materials. If you're going to use a qualified builder, make sure he understands what his role is and what he needs to provide you with for an efficient granny flat kit build.
We hope this guide helps you make an informed decision on buying a  granny flat kit in NSW.
Granny Flats Sydney NSW Australia
---
---
Comments